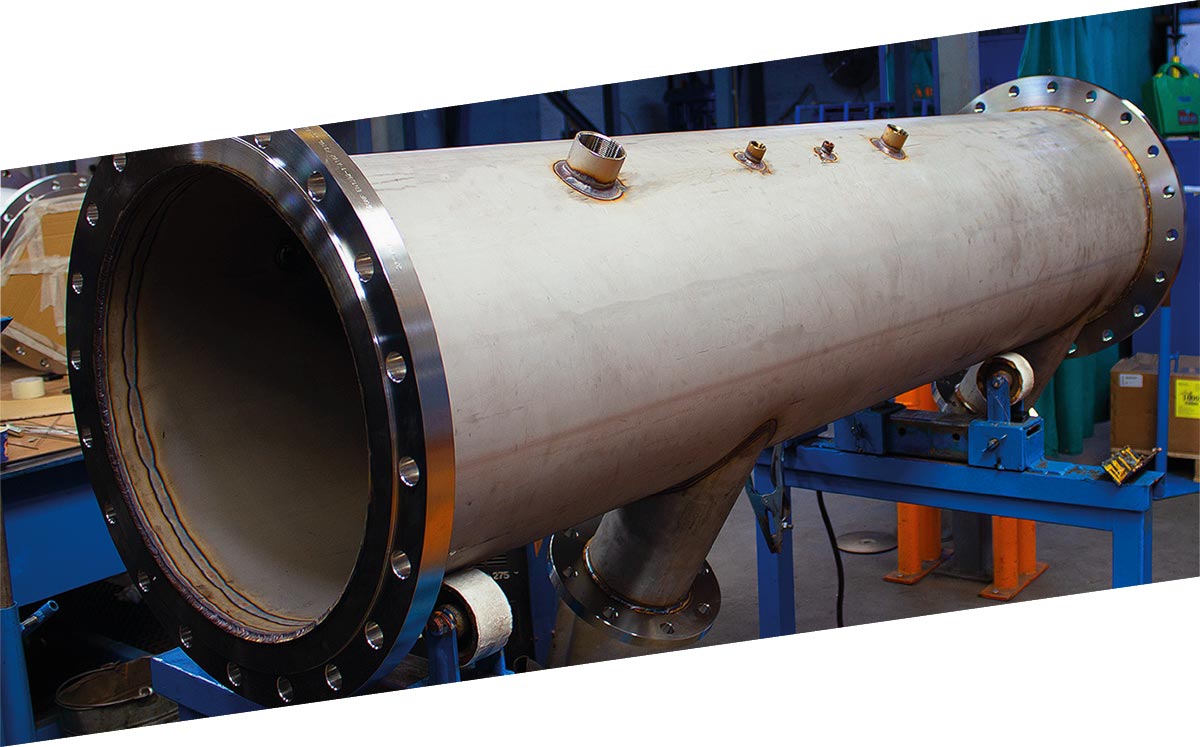 Specialist Pipework Fabrication Services
Varlowe Industrial Services Pipework Fabrication team is a collection of engineers with over 25 years in the industry. Typically serving clients within the renewable energy, utilities, pharmaceutical, food and general building maintenance sector.
We are fully experienced with fabricating, installing and maintaining all types of high quality pipework. From high pressure systems in the plant room to underground uPvc on busy high streets.
Varlowe's Pipework fabricators and project managers have been responsible for completing projects for a number of high-profile customers. Including multiple district heating systems across the country.
Our Welding and Fabrication team consist of highly experienced, ISO 9606 -1:2017 Coded Welders. As part of our quality assurance, each weld is visually checked before leaving the workshop. We can also arrange for a third party NDT if the job requires.
Alongside our pipe manufacturing, we can offer a complete hydrostatic and pneumatic pressure testing service.
Our main goal is to provide a service of the highest standards, through careful planing and execution. Above all, health and safety is always our top priority. This is why we are ISO 9001:2015 & OHSAS 45001:2018 and Safe Contractor approved for peace of mind.
Pipework Fabrication Applications
We fabricate and install pipework for many different types of purposes. Including: Gas (Including Emergency Gas Pipe Welding) | Compressed Air | Water | Pneumatic | Hydraulic | Steam | Utilities | Process | Ventilation Ducting | Pipeline.
Typically working with carbon steel and stainless steel pipe. We can also fabricate in a number of different materials including copper, uPvc, and abs.
Our workshop is tailored to prefabricate the majority of piping off site, which keeps on-site disruption to a minimum.
Our warehouse maintains an impressive stock level at all times. Because of this, we are able to respond quickly to new projects.
Varlowe thrives on ensuring a convenient and cost effective service from start to finish.
Pipework Installation Services
We have the ability to deliver most pre fabricated pipe nationwide. We can arrange alternate transportation for larger fabrications.
Our on site installation team are able to carry out a fully comprehensive pipe fitting service. Even in the most remote of locations. Working from fully equipped company vans, they will have everything they need to carry out a professional and effective service.
The installation service is arranged by your assigned contracts manager, who will be your first point of call throughout the process.
All of our pipe fitters are GAS SAFE registered. Fully trained in accordance to the latest safety legislations and certified to carry out work on gas pipe repairs. For more information, please visit our Industrial Gas Services page.
Pipework Insulation Services
Here at Varlowe Industrial Services we recognise the importance of insulation, as a member of the Chartered Institute of Environmental Health, we understand the impact of using excess energy is having on our planet. Incorrect or insufficient insulation not only uses more fuel, but it could also cost you money through energy bills and pipe repair, especially over the winter months.
This is why we only employ the highest standard of workmen to carry out your installation requirements. From conception to installation, we can complete any type of job from a small repair to a complete pipework system in accordance with BS 5422:2009. Whichever UK location, we at Varlowe will ALWAYS ensure that our clients have complete satisfaction in the standard of service and quality of product they receive.
Typical commercial/industrial lagging projects services that we offer include:
Pipework
Boilers
Ancillary Equipment
Heat Exchangers
Whatever you're industrial or commercial insulation requirements are, Varlowe Industrial Services can help, we have a vast range of experience serving all sectors including:
Manufacturing
Commercial Premises
Hospitals
Prisons
Universities, Colleges and Schools
We apply a flexible approach to difficult work schedules, ensuring minimal disruption to your business, even during major refurbishments. If required, out of hours working is easily accommodated and technical advice is readily available at all times.
Contact Us
Call
Give us a call on 01902 861042